Our Coaches & Ambassadors have competed in 100+ local swim, bike & run events and 100+ triathlons over the past 5 years, often ranking in the top 10% of their field. In addition to local races, our Coaches have competed in major national and international races including Escape from Alcatraz, Ironman and 70.3 World Championship, NYC Marathon, NYC Triathlon, and the 50k National Championship. Our team has accrued 100+ lbs. of weight loss, more than 10 Ironman Finishes, and countless Sprint and Olympic distance races.
First and foremost, they are personable, knowledgeable, and here to help you accomplish your goals. So, let's meet the team!
MEET THE TEAM
Coaches & Ambassadors:
All of our Coaches hold national coaching certifications and are available for 1-on-1 personal training and/or virtual coaching (pending availability).  Our Ambassadors are experienced triathletes and all-around awesome people who lead weekly workouts for the Empire Tri Club in NYC.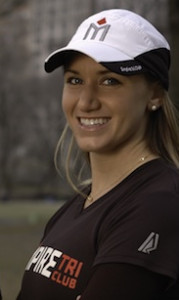 ALISON KREIDEWEIS (Coach & Ambassador) is the Co-founder and Head Coach of the Empire Tri Club and a 2x member of TEAM USA – AG National Triathlon Team.  Alison is a USAT All-American, and has competed in both the IRONMAN 70.3 World Championships as well as the Olympic Distance ITU World Triathlon Championships (placing 33rd in her age group and 10th American, 12 weeks after giving birth).  In 2014, Alison was named "Best Personal Trainer" in the Northeast, along with fellow Empire Tri Club Coach Chris Mosier on Competitor.com.  Alison is a national fitness expert who has been featured in Fitness Magazine, Sports Illustrated, Fox 5 News, TRI Magazine, The Active Times, Well & Good and more.  She has been competing in triathlons for 17 years, ranging from Sprint to Ironman distance and is a multi-time overall female champion at local and regional races.  Alison has worked as a coach, manager, group fitness instructor and personal trainer for Equinox, New York Road Runners, Odyssey Athletic Center & SBR Multisports.  Her certifications include NASM, USATF, USAT, Schwinn Cycling, Mad Dogg Cycling and a Pregnant/Postpartum Specialty Certification.  As a new mom, she enjoys working with women who are pregnant or have recently given birth.  Alison empowers others to feel strong & confident by pushing their physical limits and believes that training with a coach and team is far more fun than training alone.  Alison is married to fellow coach Sascha Kreideweis.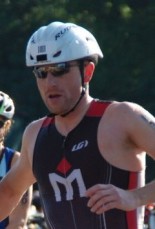 SASCHA KREIDEWEIS (Ambassador) is a USAT Level 1 Coach & competitive long distance triathlete who completed his first Ironman (IMFL) in 9:24. Sascha grew up in Germany, and competed in his first triathlon at age 14. His true passion is cycling.  In 2009 he rode his bike over 1,100 miles in 9 days from Germany to Barcelona. He competed in 3 Ironman's as well as the 70.3 World Championship. Sascha was named 2007 Best Male Triathlete by SBR Multisports, 2007 USAT All-American, and accrued many podium finishes. Sascha is a F.I.S.T. Certified Bike Fit Specialist & Competitive CRCA Road Racer, winning the Cat 5 Bear Mountain Time Trial. If you have questions about the bike, Sascha's your man!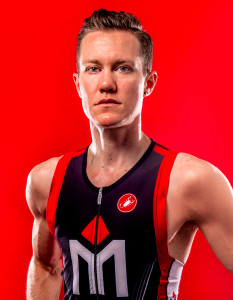 CHRIS MOSIER (Coach) is a nationally-sponsored triathlete in his fourth year of coaching with Empire Tri Club. In 2015 he made history by becoming the first transgender man to make a Men's US National Team. Chris is a 3x Ironman finisher, has accrued several first place finishes and age group wins, and is a Boston-qualified marathoner. Chris is an IRONMAN Certified Coach and holds coaching certifications from USAT and TRX, and is a NASM certified personal trainer, performance enhancement specialist, and fitness nutrition specialist. In 2014, he was named "Best Personal Trainer" in the Northeast by Competitor Magazine, along with fellow Empire Tri Club Coach Alison Kreideweis. Chris has been featured in The New York Times, The Wall Street Journal, Sports Illustrated, ESPN The Magazine, Triathlon Magazine Canada, Outside Magazine, BuzzFeed, The Advocate, and more.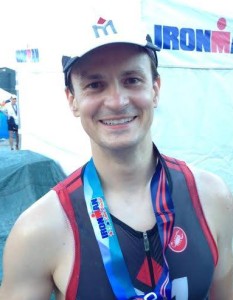 CAMERON SMITH (Coach & Ambassador) is a lifetime athlete who picked up the endurance bug in Charlotte, NC in 2010 where he completed his first sprint distance race. After his third season with Empire Tri Club in NYC, he has now participated in many Sprint, Olympic, and Half-Ironman races, attempting his first Ironman race this summer in Lake Placid, NY. In 2013, Cameron began competing in USA Cycling road and criterium races, and is currently a Category 4 racer. He is an early adopter of technology and known as a gear guy, always interested in sharing his knowledge and research with others. He is a firm believer in the concept of social fitness and currently serves as a global ambassador for Strava, a community of athletes that connect online to motivate one another through competition and camaraderie.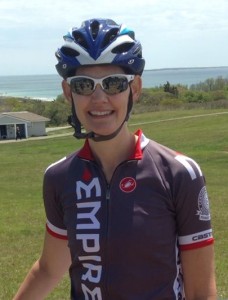 SONDRA MARTINEZ (Ambassador) is a passionate runner & outdoor enthusiast. An avid hiker, snowboarder, and rock climber, Sondra found it difficult to exercise regularly after moving to New York City in 2004. Her husband and Empire Ambassador, Matthew, decided to sign them both up for the New York City marathon in 2008 and her passion for running was born.  Since 2008, she has run 7 marathons (including NYC 3 times), one ultra- marathon, and countless other trail and road races. Sondra enjoys sharing her love of running and encouraging new runners to participate in the sport. After running with Team for Kids for two years in a row, Sondra became a Team for Kids mentor to new runners tackling their first half and full marathons. Once again, with a little push and encouragement from her husband, Sondra took up triathlons in 2012 and has since participated in several sprint and Olympic distance races. Sondra is excited to be an Empire Ambassador and help others find their inner runner.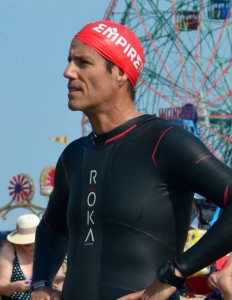 Harry Neuhaus (Coach & Ambassador) is a USAT Level 1 Coach as well as a RRCA Certified Coach. He began his running career in January 2010 by training for a 5 mile race.  He completed that race and immediately began training for his first half-marathon and upon completing that, he ran his first marathon, New York, with Team for Kids.  Harry was asked to be in the first TFK Mentor class and he continues to be a TFK Mentor.  He is also a pacer for NYRR Half Marathons.  To date, he's lost 40 pounds, has participated in 8 marathons (PR 3:21:07), four 70.3 (PR 5:11:26) and many half marathons and Olympic triathlons.  He strongly believes that the best results will be achieved with patience, good coaching and a group of like-minded individuals to enjoy the process. Harry lives in Brooklyn, NY with his wife and children.  2015 will be his second season as a coach with Empire Tri Club.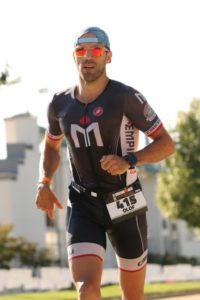 OLOF DALLNER (Coach & Ambassador) is an ultra endurance and triathlon athlete. He is a Level I USAT certified triathlon coach and currently a category 3 road cycling. He has won 3 Spartan Death Races and completed several 48+ hour challenges. In 2013 he finished 2nd in the Spartan World Championship Ultra Beast obstacle race, 3rd in Worlds Toughest Mudder, and 1st in Quintuple Anvil (5x continuous Ironman distance) triathlon. In 2015 he ran a 2:47 marathon and finished 3rd overall at the NYRR 60k (4:35). In 2016 Olof finished 3rd overall at IM Louisville (9:09) and qualified for Kona. Olof is a firm believer that everyone can go beyond their perceived limits, and he is passionate about showing you how.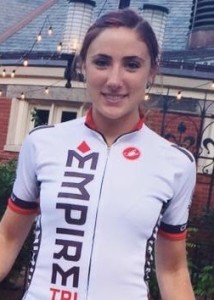 CAITLIN ALEXANDER (Coach) is a USAT Level I triathlon coach in her third year of coaching with Empire. Coming from a swimming and cross country running background, she dove (pun intended) into the sport of triathlon 15 years ago (after too many running injuries) and has since completed dozens of marathons (including Boston), 70.3's, and Ironman distance triathlons (her favorite). Most recently, she recently placed 3rd in her age group at Ironman Santa Rosa and clocked the 4th fastest female bike split of the day. She is also a Cat 4 cycling road racer for Alp Cycles Racing out of Boulder, CO. After a bike accident in 2013, she made a career change towards promoting health, fitness and mobility, and helping others to improve the quality of their lives. She currently lives in Denver, pursuing her Doctor of Physical Therapy at the University of Colorado Anschutz Medical Campus. Her holistic coaching approach lies heavily in quality versus quantity and training the athlete as a whole to reap the most positive physiological adaptation while reducing risk of injury.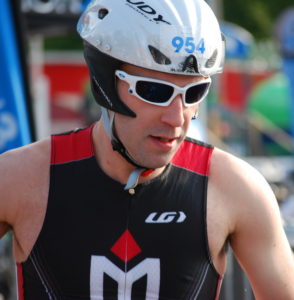 DAVE MENDELSOHN (Ambassador) has been a nationally sponsored runner for several years, and was one of the original Coaches of the Empire Tri Club.  He returns this Summer 2017 after a hiatus –having twins!   A USATF Level 1 Coach & competitive distance runner and triathlete, Dave is also an official pacer for the NYRR, and can be found pacing their half marathons and the NYC marathon. Dave is also a 2x Ironman finisher with countless Half Ironman, Olympic and Sprint Triathlons under his belt, and a seasoned road racer having completed 50+ marathons and 8 Ultras… but he loves to race every distance, from Ultras down to the Mile.   As a father of very active twins, Dave knows how hard it is to squeeze in time for workouts and races, but loves involving his family in every way possible. His coaching passion is speedwork, recognizing it's nearly impossible to do on your own, but when done with a group, the benefits are enormous and a lot of fun!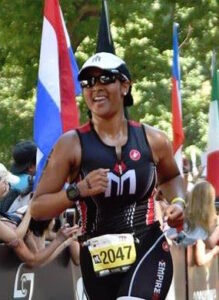 DOC GOLDEN's (Ambassador) gateway into triathlon was running track & field in high school. She started doing road races several years ago with the New York Road Runners and then ventured into the world of obstacle course racing, including the challenging Tough Mudder series. In 2015 Doc set her sights on completing her first triathlon and joined our renowned Beginner Program. While she had only set out to do one triathlon in her first season, she ended up finishing FIVE before the season was out. Doc has now completed over a dozen triathlons including, sprint, olympic and half ironman distances, as well as completing full marathons. She is a true testament to the power of positivity and her energy and passion for pushing herself and her peers to their limits is contagious to everyone around her. Her enthusiasm and vivacious spirit make her a natural fit to mentor and lead our next generation of Beginners. Doc believes strongly that "teamwork makes the dream work" and that training with a team not only challenges you more, but helps you improve faster. According to Doc, "training with a team helps make achieving your goals a lot more fun and less "work!"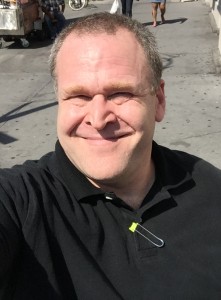 BRAD GANSBERG (Ambassador) is a guru when it comes to helping people battle the challenges of losing weight and living a healthy, balanced life. Don't believe me? Check out his #7daychip group on Twitter. He transformed his own life by signing up for a triathlon and losing 80+ lbs. Since then, Brad's gone on to tackle IM Lake Placid and accrue many cycling podium finishes. He has taught numerous people of all abilities to run their first race, including his wife Leigh. Brad believes that slow change is the best route to lasting change.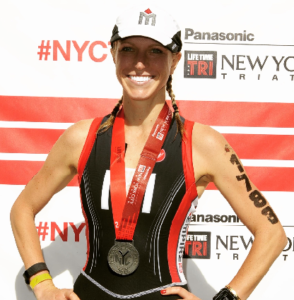 Sara Bryant (Coach & Ambassador) Sara is both an Ironman and VDotO2 Certified Coach. A running enthusiast, Sara found her inner triathlete in 2015. She began her athletic journey in high school as a soccer player first and a track and cross country runner second. A few years after college, Sara began "recreationally" running, and truly fell in love with the sport. After several 10ks, half marathons and her first full marathon, Sara decided to sign up for her first triathlon. She has since competed in several sprint, Olympic and Ironman 70.3 distance triathlons, including the 2017 Ironman 70.3 World Championship, all while maintaining an active marathon calendar, including NYC and Chicago. Sara is currently focused on the 70.3 triathlon distance, and looks forward to her first Boston Marathon in 2019. Sara has several long-term goals related to endurance athletics. At the top of the list are taking on the full Ironman distance, as well as completing all six World Major Marathons (New York, Boston, Chicago, London, Tokyo, Berlin). Sara loves to share her enthusiasm for triathlon (and running), and can't wait to help others find their inner triathlete, too!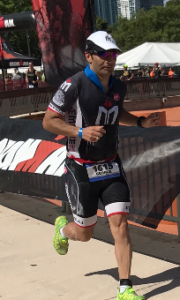 George Marroig-Tagle (Ambassador) is in his 10th season doing Triathlons.  He remembers doing his first NYC Tri not having trained with a club.  His swim took longer than 35 minutes and it was the hardest race he'd ever completed.  After joining the Empire club, he did the NYC Tri again and PR'd by 40 minutes, so he can attest to the advantage of training with the club!  Since that point he has never looked back.  He has about 40 plus triathlons under his belt as well as having completed Marathons, raced with the Empire cycling team, and will compete in the USAT Age Group Nationals.  They call him "Zone 5 George" for a reason!
His training philosophy is that the weakest muscle in the body is the one between the ears, & if you can train that muscle, we can help you with the others and everything else will fall right into place….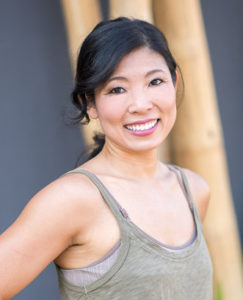 Hess Kim (Ambassador & Yoga Instructor) 
is an expert yogi and triathlete who will be joining Empire Tri Club in 2018. As an endurance athlete herself and understanding the benefits of yoga for every body, Hess will guide you through a series of classes catered to the triathlete. Hess has her Advanced Yoga Teaching Certification in Yoga for Back Care and her Ropes Wall Certification, with Alison West at 
Yoga Union
, and is a Co-op member and teacher at 
Samamkaya Back Care & Scoliosis Collective
. Hess has also completed her prenatal/postnatal yoga certification at the 
Prenatal Yoga Cente
r, is a DONA trained birth and postpartum doula, has completed a Midwife Assistant Training with the midwives of 
The Farm
, is a certified childbirth educator (LCCE) trained through both Lamaze and 
Childbirth Education of Metropolitan NY (CEAMNY)
, and is a Certified Lactation Consultant. In her spare time, Hess enjoys riding her bike and participating in cycling events and triathlons, including the NYC Triathlon, Toughman Half, Sweden's Vatternrundan, and multiple Gran Fondos.
Meet our Swim Coaches:

Empire Tri Club has an absolutely awesome team of swim coaches including former Olympians, collegiate swimmers, and state champions.  Their personal swimming accomplishments range from short-course pool swimming (50m-1500m) to long-course open water swimming (17-28 miles!).  Our coaches work with swimmers of all abilities and are available for 1-on-1 lessons, small group classes and in large group clinics, both in the pool and open water.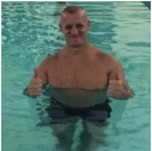 JUGURTHA (GINO) AIT (Swim Coach) is a former Olympian.  He began swimming at the age of 4 and competing at the National Level by 14.  Gino won numerous medals in the individual 100M & 200M breaststroke event and championship medals as a member of the National Swim and Water Polo Team.  Gino's coaching career began 25 years ago when he lead the Algerian National Swim Team in the African Championships.  Gino is an ASCA Level 3 Swimming Coach and holds 2 FINA Swimming Coach Certificates.  Gino was a coach at the Brigantine Aquatic Center and the FasTracKids School in Queens.  Gino enjoys working with students at all levels and is passionate about helping every student surpass their swimming goal.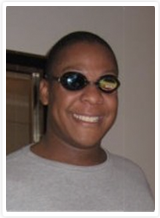 TYRONE HUTCHINSON (Swim Coach) is a New York City native. He started swimming competitively at age seven at the local YMCA in the Bronx. At age twelve he joined the West Side Y Marlins. There he became a 2-time YMCA State Champion in the 100 fly, YMCA National qualifier, and Junior National qualifier. Tyrone graduated from Saint Bonaventure University in 1997 where he won two A-10 championships and was a perennial finalist in the 100 and 200 fly.
He joined Red Tide in November 2005 as a swimmer and began coaching in September 2006. He believes that technique and the nuances of swimming make a faster and smarter swimmer.  Tyrone started coaching Empire Tri Club's Instructional Swim Classes in Spring 2016.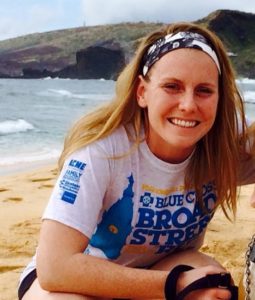 Megan Happ (Swim Coach) began competitive swimming at age 7 within the YMCA community in
Pennsylvania.  She finished her high school career at the Upper Main
Line YMCA and went on to swim for four years at Boston University,
swimming countless laps in the distance lane and captaining her senior
year.  After graduating from Boston University in 2013, Megan quickly realized her
life was not complete without a pool.  And so began her time in the
world of Masters swimming.  Megan has been a coach at Red Tide since
January 2016.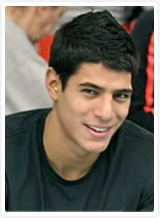 Nick Hernandez (Swim Coach) began swimming in high school and moved on to compete at Saddleback College and the University of Southern California under Dave Salo.  While prepping at USC, Nick began coaching with Southern California Aquatics (SCAQ), the largest masters program in the country.  Upon graduation, Nick came to New York City to study law at Fordham University.
You can currently find Nick around his Lincoln Center apartment or in the pool.  Nick brings to the pool deck an array of mantras that either empower his swimmers or annoy the heck out of them.  Regardless, as a swimmer himself, he constantly pushes his swimmers to master their goals and achieve the impossible.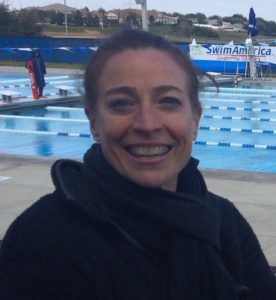 Marty Munson (Swim Coach) is a USAT Level 1 coach and a US Master's Swimming-certified coach. She was a late-onset athlete, coming to triathlon in her 40s. Life hasn't been the same since—in a good way. She stopped counting triathlons completed—from sprints to 70.3s—at around 30.
In 2013, she did the Manhattan Island Marathon swim as a relay, which was the gateway drug for a new addiction to marathon swimming. She's since swum around Manhattan solo (28.5 miles), and has completed the Swim Around Charleston, Swim Around Key West, and the 17-mile Rose Pitonof Swim from Manhattan to Coney Island, and many more.
She's a wellness and communications expert who's written about health, fitness, and triathlon for outlets including Triathlete, Competitor, Marie Claire, Dr. Oz The Good Life, Prevention, Shape, and O, the Oprah Magazine.
*****************
Interested in working with a coach?  Check out our Virtual Coaching & Personal Training Packages and/or email info@empiretriclub.com for more info.  
Interested in becoming a Coach or Ambassador?  Please email info@empiretriclub.com.