ABOUT US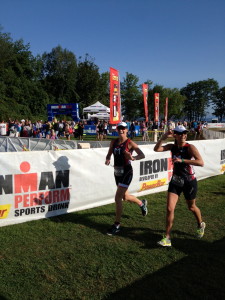 Empire Tri Club was founded in October 2010 by co-founders and cousins, Alison Kreideweis and Jessica McDonald. Ali, in addition to being a veteran triathlete, has extensive experience in the industry, including a background in multi-sport retail, tri club management, and personal and team training. Having finally made the brave decision to venture out on her own, she approached Jess, who had recently completed her first triathlon in the summer of 2010 in the wake of having her first child. Having worked for various start-ups and small businesses in the areas of marketing and business operations, Jess's entrepreneurial background combined with her love of sports was a great fit.
Ali and Jess come from a tight-knit family who loves to ski (water and snow!), bike, travel, and eat together. We've also been known to engage in the impromptu dance party or poetry slam on various occasions…
MEET ALI
ALISON KREIDEWEIS is Co-Founder and Chief Training Officer of the Empire Tri Club. She is a USAT Level 1Triathlon Coach, NASM Certified Personal Trainer, USATF Certified Level 1 Track & Field Coach, and Schwinn & Mad Dogg Certified Cycling Instructor. Alison completed her first triathlon in 2000, and began racing competitively in 2007 when she placed 3rd in her first half ironman. She has competed in notable races including Escape from Alcatraz, Ironman Lake Placid, and the 70.3 World Championship in 2010. Alison consistently places in the top 10% of her age group, with several top 5 overall finishes.  In 2012 she won the Tri Rock Sprint Duathlon, the Wyckoff Triathlon, and placed first amongst all Equinox employees nationwide in the Equinox Indoor Triathlon in March.  She ranked 6th in her age group at Ironman Timberman 70.3 in August, with a time of 5:11:06, earning her a qualifying spot for the 70.3 World Championships in Las Vegas 2013.
Ali grew up in an athletic family. She learned to ski at age 3, and is a passionate alpine and telemark skier with her co-founder Jess. She starred in soccer, swimming and track in high school, and became the 2nd woman in her school's history to earn 12 varsity letters. Ali went on to play Division I soccer at Bucknell University, where she graduated with a degree in Psychology. In September 2011, she married fellow Empire Coach & Ironman triathlete Sascha Kreideweis.
In addition to Empire, she teaches cycling at Equinox and coaches for the New York Road Runners Team for Kids program. She believes that training with a group is way more fun and pushes you to work harder than you otherwise would.
MEET JESS
JESSICA MCDONALD is Co-Founder and the Director of Business & Marketing for the Empire Tri Club. She has always been passionate about sports and enjoys an active lifestyle with friends and family. A varsity, all-state soccer and lacrosse player, and competitive dancer throughout high school, she feels most at home in the mountains and on skis. She loves skiing and telemarking in Utah and Vermont with her friends and extended family.
Motivated to get back into shape after giving birth to her son Connor in October 2009, she had her first foray into the sport of triathlon in the summer of 2010. Despite some bumps and bruises along the way, she completed the Falmouth Sprint Triathlon on Cape Cod 9 months after he was born and has since competed in many other sprint distances after her daughter arrived in October 2012.  These days, she competes regularly in her local races, the acclaimed Cohasset Tri, Duxbury Sprint and the challenging Timberman Sprint in the mountains of NH, where she most recently shaved 15 minutes off her prior year's time.  Jess, Ali and fellow Empire coaches have also tackled the grueling and aptly-named Tough Mudder at Mt. Snow, VT and had a blast. She is excited to learn more and push her competitive limits in the sports of triathlon and adventure racing.
Jess graduated Cum Laude with a BA from Georgetown University in 2002, and later earned a graduate degree in Entrepreneurial Management from Boston University in 2008. She has worked for several successful start-up companies to date where she has honed her skills in Marketing, Communications, Operations and New Business Development.