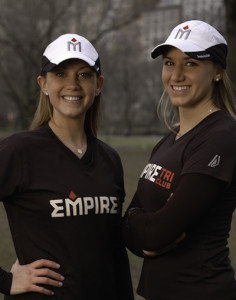 Empire Tri Club was founded in New York City in October 2010 with nearly 40 athletes competing during our first racing season in March 2011.  Today, Empire has nearly 150 Tri Club Members plus hundreds of other athletes who take advantage of our year-round training programs and special events.  In fact, between our Club Members and digital network, the Empire Tri community is now over 6,000 people strong, so whether you're looking for in-person coached workouts, specialized 1-1 training, race specific training plans or simply online support, guidance and camaraderie from fellow triathletes, Empire has you covered.
And don't forget, while triathlon is our specialty, Empire caters to all types of athletes across various disciplines from marathons, mud runs/obstacle racing, cycling, open water swimming and in-pool training, TRX, functional strength, ultratriathlon/ultrarunning, and we even host yoga events.  We are a very beginner friendly club, offering 3 Beginner Programs a season (starting in January, April and July), as well as a 20-week NYC Triathlon Training Program and our acclaimed Open Water Swim Clinics and Beginner and Masters Level Swim Camps.  And not to toot our own horns, but Empire was voted #1 Triathlon Club in the Northeast by Competitor Group 3 years in a row!
We understand that there are many factors that go into choosing a team to train with– size, location & timing of workouts, coaches, race calendar, ability level and general vibe of the club. So here's a basic rundown of who we are and how we can help you achieve your fitness and racing goals.
About the Club:
150+ Club Members & counting…
Additional 400+ athletes/yr. who participate in our sport specific training programs & special events
10 Highly Skilled & Experienced Coaches & Ambassadors.  Click here to Meet the Coaches.
30+ stellar Partners & Sponsors offering discounts on hundreds of products, services & race entry fees
Team Race Calendar includes 5-7 Team Races per season, located in the tri-state area (NOT required, but club workouts & training programs cater towards club races & participating in these races ensures coordination of logistics, carpooling, accommodations as well as support & camaraderie at the race!)
Mainly Sprint & Olympic distances with 1-2 longer (Half/Full) races per season (though you can usually find a teammate ready to race some distance or destination with you!)
40% Female ; 60% Male
Age Range: 25 – 50+ yrs. old
Weekly Team Newsletter & Team List Serve for ongoing communication, updates & support
Coach-Led Club Workouts 5x/week in season*

Weekdays: 7pm bike, 6:30pm strength / run; Meet Up & Bag drop at NY Running Co in Deutsche Bank Center ; departure from Columbus Circle @ SW corner of the Park
Weekends:  Morning rides up Riverside Drive & over GWB
Sample Workout Calendar (April – October)*

Monday: Group Bike
Tuesday: Group Strength
Wednesday: Group and/or Posted Swim
Thursday: Group Run
Friday: REST or Individual Workout
Saturday: Group Ride/Brick
Sunday: REST or Individual Workout
Exclusive partnership with the acclaimed Red Tide Masters Swim Program, offering Empire Tri athletes access to coached swim workouts 6 days a week!
*Typical schedule. Subject to minor changes.

ALL ability levels welcome!  Our current breakdown is approximately:

35% Beginner
45% Intermediate
20% Sub Elite or Elite

For additional information, you can visit our FAQ page or please feel free to email us at info@empiretriclub.com with any questions or to start a 2-week free trial.

Whether you're a first timer looking for guidance, embarking on a new fitness challenge, need a coach or group to help you stick to your fitness or racing goals, or simply looking to get into great shape in the company of good friends in a fun, supportive environment, we welcome the opportunity to help you meet your goals!