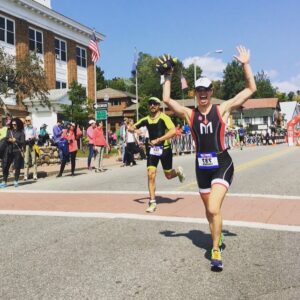 9/15/17
They say you never forget your first – and boy will I never forget my first half Ironman!!!  I've been riding my post-race high for a few days now and still can't believe that I actually finished the race.  I knew I was more than well trained to complete this race but there's always that little thought deep in the back of my mind that always thinks "What if I can't?" (Answer to that: Life goes on and there will be other races to do).
Before I get into my race recap, a huge CONGRATULATIONS to everyone reading this who toed the start line.  Lake Placid is no easy course and the weather conditions at the beginning made it challenging for sure, so big high fives for just getting out there.  I hope you all had as much fun as I did!!!
Ok now onto my race recap…
Pre-Race
Having just gotten back from Portugal and needing to unpack, do laundry and repack, I honestly didn't really have enough time to do very much in the way of workouts.  Which to be quite honest, I was totally fine with.  I had some great workouts the week before so I was fine with ending my training on that high note.
Drove up to Lake Placid on Friday morning – it was a long drive, but man is it gorgeous! Once we got off the highway and started weaving our way through the mountains I got really excited for the race.  I knew it was going to be a beautiful course, but I didn't know it was going to be this gorgeous!
After we arrived and checked-in to our Airbnb, fellow Empire teammate Howard and I decided to go for a short shakeout swim in the lake.  We were only going to go to the second buoy, but ended up going to the third.  It took us a bit to find the famed cable, but once we did, it was great. The water wasn't that cold, but after getting out and standing in the cool air was when we got chilly.  It was a good mental prep for what Sunday was going to be like.  My swim felt great and gave me a good boost of confidence for race day.
After our shakeout swim, we went to athlete check in and got all of our stuff – it was definitely getting more and more real by the second.  The rest of the day we just chilled out, went to dinner, and got to bed early to try and get one last good night of sleep (I knew I wouldn't sleep much Saturday night).
Saturday morning we went for a short 20 minute ride on River Road to get a glimpse of the run course.  Again – beautiful. Even on a cloudy, dreary day.  Made sure all was in working order on my bike and everything felt good.  I had wanted to go for a short run as well, but with the weather cold and rainy, I didn't want to risk anything and skipped it.  I wanted to run more so for a mental piece of mind – I came into triathlons as a runner so running always calms me down and that's what I wanted before the day. To give me a little peace of mind.  But oh well, it wasn't in the cards this time!
We did some more relaxing, checked in our bikes, met up with some friends who were there volunteering, went to an early dinner, got our stuff ready for the morning and then early to bed again.  I'm not going to say I got a great night of sleep, but I did sleep better than I had anticipated. Wooooo!
Race Day Morning
4:00 am alarm clocks are never fun – especially when it's still dark and cold outside.  I peeled myself out of bed and started making coffee. Because, priorities! We didn't need to leave our apartment until around 5:30, but I'm one of those people who can't just get up and go, I need time in the morning to ease into the day, have breakfast (oatmeal with PB and banana in case you are wondering) and coffee and let it digest a bit.
Did one last check of my bag, and that I had everything I needed. We headed out the door at 5:40 all bundled up trying to stay as warm as possible for as long as possible.  As I peeled off my two layers of long sleeves to get my body marking done, I thought, "Oh, it's not THAT cold out". Spoiler alert: I will highly regret saying that in about an hour.
After getting my transition area all set up, pumping my tires, and getting into my wetsuit, we headed over to the start area.  Around 6:50 I finally took off all my extra layers and headed into the 45-55 minute swim group.  Standing there in the cold with bare feet felt like the longest 40 minutes of my life.  I was starting to get worried because my feet were so cold and starting to go numb.
Before I knew it the national anthem was being sung the gun went off.  The race had officially begun!!!
Swim
The swim was what I was most nervous about for this race – but I have to say I ROCKED IT (or at least in my mind I did)!!!  By the time I finally got to the water, I took my time getting in, found my lane, and started.  I knew I wanted to start a little slower to ease into it and get myself into a good rhythm.  Luckily, I got my rhythm and got into the zone right away – I really think it's  because in swimming, you immediately put your head under water and can drown out everything else around you.
My hands and feet did start to go numb just before I reached the turnaround, so that made me a little nervous, but I dealt with it.  There were a few parts that felt a bit crowded, but I was able to maneuver around people and to my surprise was passing people pretty much the entire time.
Starting to see the bottom of the lake under me and running out of the water was the best feeling ever!!!  I knew the rest of the day would be a breeze (relatively speaking of course) now that the swim was over.  41:59 on the swim – not too shabby!!!
Transition 1
I thought keeping my wetsuit on while going from the swim to where our bikes would help keep me warm, and it did, but I didn't anticipate how difficult it would be to take my wetsuit off with halfway numb fingers.  Should have had the wetsuit strippers help me – oh well – live and learn!
I made sure to dry myself off as much as possible to not be so cold on the bike.  Putting on multiple other layers also presents a challenge when your fingers are a bit numb and don't have full dexterity in them.  Again, live and learn!  10 minutes later and I was finally heading out of transition, all bundled up.
Bike
This bike course is no joke – but man is it beautiful! Not going to lie there were definitely times where I COULD have been going faster, but I really wanted to just enjoy all the beautiful scenery around me and take it all in.
Also, major kudos to the people who do the full and do this TWICE!  For those of you unfamiliar with the course it's hills on hills on hills – especially at the end.  You start off with a decent climb for about 6 or 7 miles, which felt great to help warm me up a bit – then it's the famous Keene decent for the next 6 or 7 miles.  Holy moly – did I pick up some speed! I think I topped out at about 35 mph.  I don't really remember too much about the middle except a pretty long out and back to Ausable Forks.  The shit gets real and those hills just start coming at ya – I may not have been the fastest but I was pretty consistently passing people on the uphills (I have a road bike, so the hills are easier).
Luckily by mile 40 I had finally regained feeling on my toes again and I was able to take my gloves and sleeves on my jacket off.  Once the sun finally came out it made a world of difference.  Getting back into town and knowing I was ⅔ of the way to becoming a half Ironman was an amazing feeling.  The energy of all the spectators in and around the oval was palpable and gave me a good boost of energy as I pulled into transition.
3:43:49 on the bike – again, I'll take it!!!
Transition 2
Not much to say about this one – went much more smoothly than the first time around. Stripped off all my bike layers, put my sneakers, hat and bib on and I was out and running in about 3 minutes.
Run
The run course is just as beautiful as the bike course.  Again, there were times when I could have been going faster but wanted to just enjoy the beautiful scenery around me.  My goal for the run was to start slow and stay strong – I didn't really care how fast I was going – and stop at every aid station to make sure I was hydrating.  Much like the bike course, the hills get ya at the end – not going to lie I had to stop and walk a bit after one of the hills because I felt my heart rate skyrocketing and wanted to bring it back down a bit.  Once I did though, I was good to go.  The last out and back though, is just mean; it felt like it would never end.  I kept thinking "Where on earth is the turnaround point?!"  Before I knew it though I was turning the corner, the red carpet and finish line in sight, so I picked it up with everything I had left and crossed that finish line!  The sense of accomplishment I felt in that moment was overwhelming – I was so proud of myself!
2:05:03 on the run – not too shabby if I don't say so myself!!!
Post Race & Final Thoughts
After getting my medal and picture taken, I headed to the athlete food tent and grabbed some water, oranges and of course a slice of pizza (which happens to be my favorite post-race food).  I found my boyfriend (well more like he found me) and we sat in the grass and hung out for a bit before heading back to transition to get my stuff and head out.
Overall, I absolutely loved this race and while I don't necessarily want to come back in 2018, I would definitely do this course again! It's a great town, the course is beautiful, and all the volunteers are so nice.
So, I think it's pretty safe to say that I'm hooked on doing triathlons.  I told myself I would wait until December to start planning my 2018 race calendar, but I broke my own rule and already started looking at races for next year!
This has been an absolutely incredible journey – I've learned so much about myself not only as an athlete but also as a person.  I've also had such an incredible support system – from everyone on Empire Tri, friends, family and my boyfriend.  Without everyone, this would not be possible.
So for now, it's not goodbye, it's I'll see you later – in 2018!!!!