Train for your first sprint triathlon!
New to triathlon? Fear not! Our beginner program will prepare you for a sprint distance triathlon in just 12 weeks. Complete with coached workouts, clinics and race day support, you'll cross the finish line ready for more!  Whether your goal is to lose weight, get healthier and more fit, or meet some new friends, our Beginner Program will give you the tools and confidence you need to train effectively and complete your first race.
2017 SESSION #1 (March 27th – June 18th) – SOLD OUT
2017 SESSION #2 (July 10th – October 1st) – Open for Registration!
Program Cost: $399 (through June 30)
Late Registration (July 1 – July 9, space permitting):  $425
Beg. Program Premium (+$250) includes a consultation and 3 personal training sessions

*
The program has SOLD OUT for the past 2 years. Register EARLY to secure your spot!
NEW!  Beginner P

rogram PREMIUM 



Looking for a little additional support?  Sign up for Beginner Program premium and receive all the support that the Beginner Program offers PLUS the following:
3 personal training sessions (can be used for swim, bike, run, strength, clinic, brick, etc.)**
30-min consultation with a coach to discuss your health history, past and current injuries, and make recommendations for how to adjust your plan
Cost:  $649
We are committed to helping you cross the finish line.  We understand that everyone has a different base fitness level and background in each of the 3 sports.  That's why we're committed to providing you with the additional support you need to help you feel confident and prepared on race day!  Additional sessions may be purchased as needed.
*All sessions are 1 hour.  All sessions must be used within the 12-week program or they are forfeited.  If a client shows up late, it will cut into the time of the session, not extend the session by that amount of time.  We recommend showing up 15 min early and allowing extra time for travel delays.  No-show sessions are forfeited.  24-hour cancellation period. Pool / facility fees not included.  Travel outside of Manhattan not included.  Any workouts longer than 1 hour will incur an additional fee (ie. bike ride over GWB)
Beginner Tri Program Includes:

•  12 Week Detailed Training Plan to follow
•  Weekly Coached Group Workouts in Central Park on Monday (7:30pm) & Thursday (7pm) nights at Columbus Circle*
•  Informational Clinics on Triathlon Basics (on select dates before M/Th group workouts) including:
– How to change a flat tire
– Basic bike maintenance
– Bike handling skills including shifting, cadence & breaking
– How to set up your transition area
– Nutrition for training and racing
– Essential gear for triathletes – where to splurge and where to save
•  Instructional Swim Lessons at John Jay College
•  2-Hour Coached Open Water Swim Clinic at Coney Island
•  Race Day Support from Empire Coaches
•  Free Empire Tech-T and Headsweats Hat
•  Discounts & shopping nights from at local partner shops
•  Beginner Program "Meet the Team" Info Session at Finish Line Physical Therapy
•  Monthly Team Socials throughout the program
•  Discounts on all Empire Tri Club training & racing apparel
The biggest benefit to joining this program is the coaching, support, camaraderie and feeling of being part of a team!  Anyone can follow a plan and sign up for a race, but to be part of a team that is there to support and encourage you every step of the way changes your entire experience!  We host socials, pasta parties, tailgates, volunteer opportunities, training camps and more.  Through our team email forum, we help with the coordination of getting to and from the race, as well as lodging for the team race!

Click to view the Beginner Tri Program Calendar.  The team will train together for the following races:
Session 1:


City Tri Mother's Day Duathlon 
May 14, 2017 • Prospect Park – Brooklyn, NY
(Sprint or Classic Distance)
Register – Discount available to program participants  

Tri One On – The Hempstead Harbor Tri
June 18, 2017 • Port Washington, NY
Triathlon – Swim 500m, Bike 10.5mi, Run 3mi
Duathlon –  Run 1.1 mi, Bike 10.5 mi, Run 3 mi
Register – Discount available to program participants  
____________________________________
Session 2:

Empire Tri Club's Mini-Tri in Central Park
TBD – August 2017 • Central Park – New York, NY
FREE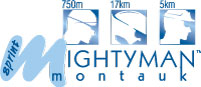 Event Power LI's MightyMan Montauk
(750m swim, 17k bike, 5k run)
Sunday, October 1, 2017 • Montauk, NY
$10-20 OFF race entry fee
Register

*Note: Dates are subject to change 
Read what past participants are saying