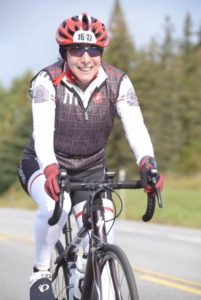 We recognize our athletes achievements which help build team spirit and inspire athletic advancement.
Meet Empire athlete Liz West:
Liz is a longtime tennis junkie who's played on many USTA tennis teams. At school, she was on the tennis team and ran track competing in the the 400m Sprint. When she's not competing in triathlons or playing tennis she's busy singing and playing acoustic guitar!
Liz had been intrigued by triathlons for some time. However, coupled with being intimidated by the swim and a lack of bike skills, there was nothing to fuel her desire to pursue the sport. Not until she gave cycling another shot on her hybrid bike.
"I had limited experience biking and had never ridden a road bike. Two years ago, I re-acquainted myself with my hybrid and did some cycling. When I picked up my friend's road bike and felt how light it was, a light bulb went off: I can ride faster, and keep up with my friends with a road bike. I bought my road bike two weeks later!"
She then entered the lottery for the NYC Triathlon and that's when her tri life began!
Just a few weeks ago, Liz competed in Ironman Lake Placid 70.3. Race morning, the temperature outside was 38 degrees Farenheit! Albeit the water was 20 degrees warmer, the swimmers would start their race in frosty air conditions. Although she never panicked during her swim, she had trouble getting her breathing under control due to the cold, which also affected her on the bike. When she arrived at transition to start her run, Liz was told that she missed the bike cut-off time and her race was over.
With her tenacity in check she refused to give up on something that she worked so hard to accomplish. While getting her chip cut off she asked if she could continue on to the run. The officials explained that if she continued her time on the course would no longer be recorded. She made peace with that statement and went off on her 13.1 mile run.
"Nothing, prepared me for being told I missed the bike cut-off time at mile 45, and that my race was "officially" over. I would have none of that, I completed the run anyway, and crossed that finish line!!! Technically I DNF'ed, but more importantly, I persevered and finished my race."
Liz finished her first Ironman 70.3 with a smile! She looks forward to another Half Ironman next June and plans to improve her swim. This should put her in a better position to completing the race in regulation time.
We are so proud to have such an athlete be part of the Empire Tri Club family.